DUTY OF CARE is a compelling reason for every organisation to have defibrillators on hand as using one, together with effective CPR, increases the survival rate of a colleague or customer suffering a sudden cardiac arrest from less than 10% to over 60%…
Without a defibrillator, the chances for survival decrease 10% with every minute you wait.  And, considering ambulance response times, help will often arrive too late.
Sudden cardiac arrest is Australia's number one killer of almost 100 people daily – however, there is something you can, and should, do about it.
Deploy a DEFIBRILLATOR PROGRAM today!
Why a 'program' and not merely buy a defibrillator – a simple transaction?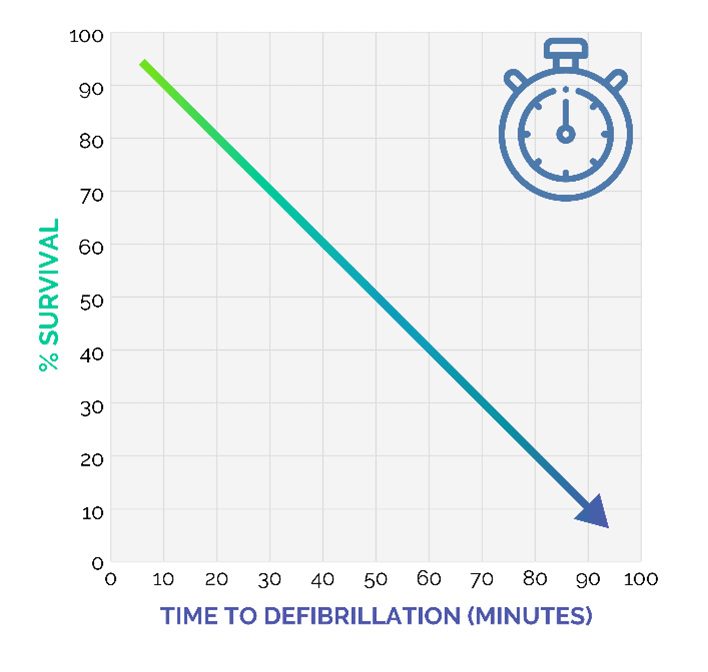 The answer is that leading defibrillator suppliers can offer you more, a turnkey solution, in order to mitigate your risk and ensure consistency of care throughout the organisation.
Your experienced supplier should offer you a Defibrillator Program with the following essential elements:
Advice from healthcare professionals as to which defibrillator model best suits your environment, as one size does not always fit all.
Advice on how many defibrillators you need to ensure adequate coverage and accessibility
Ensuring your defibrillator preferably provides audible coaching and feedback on CPR compressions
Advice on whether a semi or fully automatic defibrillator is appropriate
Provision of face to face and online training to familiarise your staff on how to use the defibrillator
Reminders on when to renew batteries/pads consumables
Post-incident access to clinical data
Support and maintenance service
Options to buy or lease the defibrillators
Supply of accessories, such as cabinets and signage
Maintenance of an asset register to manage your defibrillators
Every organisation has staff turnover.  Your Defibrillator Program supplier will retain the institutional memory to ensure your defibrillators are always ready for action when needed.
Remember: according to the Heart Foundation, sudden cardiac arrest is the cause of one in 20 deaths in Australia with one person dying of a heart attack every 72 minutes!
Compare this to death from fires which is far less prevalent – yet all buildings carry fire prevention equipment and too few carry defibrillators.  Reduce risk, enhance your duty of care and prevent unnecessary deaths from sudden cardiac arrest by deploying an intelligent Defibrillator Program without delay.
Ask us how…